Orthodontics
Orthodontics in Alexandria, VA
When your teeth are correctly aligned, they look nicer. But that's not the only reason to consider orthodontics. Straight teeth are easier to keep clean and are less likely to become decayed. It's easier to talk and eat your favorite foods too. Your smile is one of the first things people notice about you and a beautiful smile is a real confidence booster. Our Belle Haven Dental team offers both traditional braces and clear aligners. That means we have an orthodontic solution for everyone, no matter how much or how little your teeth need to be moved.
Plan a Visit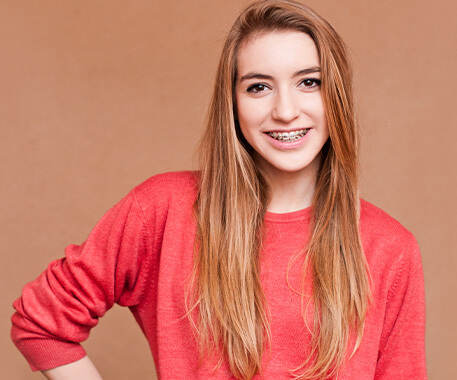 Traditional Braces
Braces are usually a good choice for most teens since there are no aligners to misplace or forget about. Traditional braces can correct all types of malocclusion ranging from slight to severe. A system of brackets, wires and bands are directly attached to the teeth and adjusted in the office at regular intervals. Over time they gently pull the misaligned teeth into position. When the treatment is completed, a retainer will be worn at night to hold the teeth in place. Because there are some foods to avoid with braces there may be some temporary lifestyle changes required.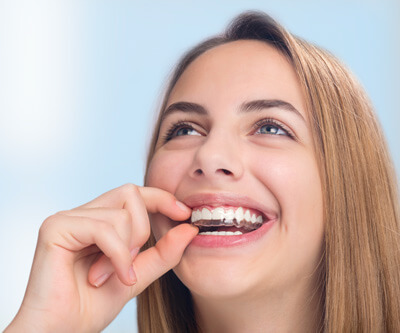 Clear Aligner Therapy
For responsible teens or adults without severe misalignments, clear aligners are a discreet way to straighten teeth. Before treatment starts, our computer software will create a custom straightening plan for you. The aligners are made in our office out of clear plastic. Every few weeks you get a new set of unique aligners that gently push your teeth into place. It is important to wear the aligners for at least 22 hours a day but one of their main benefits is that they can be removed for short periods of time. Clear aligners are especially popular with adults who have wanted to straighten their teeth but who didn't want to wear traditional braces.
Benefits of Clear Aligners
Clear aligners are barely noticeable
Aligners are removable so it's easy to eat and clean your teeth
The trays can be removed for a short time for special events or important meetings
Generally the treatment time is shorter than traditional braces
Fewer office visits are required during treatment
The smooth plastic aligners won't irritate your mouth
Plan a Visit to Discuss Orthodontics