Dental Implants
Dental Implants in Alexandria, VA
Missing teeth are inconvenient and can keep you from enjoying many activities that you take for granted when you have a complete smile. Dental implants are an excellent solution for most people since they can be used to replace a single tooth or multiple teeth. They can also be used as abutments for a dental bridge. When dentures are snapped on to dental implants, they remain firmly in place. Each situation is different and our Belle Haven Dental team will consult with you to determine if you are a good candidate for a dental implant.
Contact Us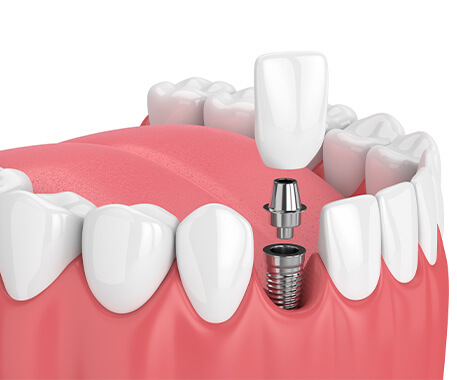 The Dental Implant Procedure
A small titanium screw made of biocompatible material is surgically implanted into your jawbone in the location where you are missing a tooth. During the healing process, the implant integrates into the bone and becomes part of your body, replacing the original tooth root. The implant becomes a strong foundation for a variety of tooth restoration options. Some possibilities include dental crowns, dental bridges or full or partial dentures.
Candidates for Dental Implants
In order to qualify for a dental implant, the patient must be in good health and have sufficient bone density. Our dentist can perform a bone graft if necessary to improve bone density. This increases the healing time but most people believe that the benefits of dental implants make them worth the wait!
Why Dental Implants?
Maintains bone density so your face retains its natural shape
Keeps surrounding teeth from sliding out of place
Feels and functions just like a natural tooth
Speaking and eating are completely natural
Implants last a lifetime with good dental hygiene
You take care of implants just like regular teeth
Versatile base for many types of tooth restorations